Today's Attacks Leverage
Multiple Techniques
Attackers try to get on the endpoint, gain access to resources, and detonate their payloads. Endpoint detection helps thwart multiple attack techniques that try to compromise Windows and macOS endpoints. Our multi-vector attack monitoring and isolation recognizes these techniques and stops them early before any damage is done. Our managed detection and response platform can work alongside of existing antivirus tools to provide an additional layer of defense.
Alert Logic Endpoint Security
Protect sensitive data against multiple attack techniques.
Use machine learning to stay ahead of attackers and zero-day attacks
Identify malicious techniques and ransomware in real-time
Isolate compromised devices
Gain deep visibility across endpoints
Cover endpoint devices whether online or offline
Designed to be fast with low overhead (1% CPU utilization)
Recognize new threats faster because it is signature-less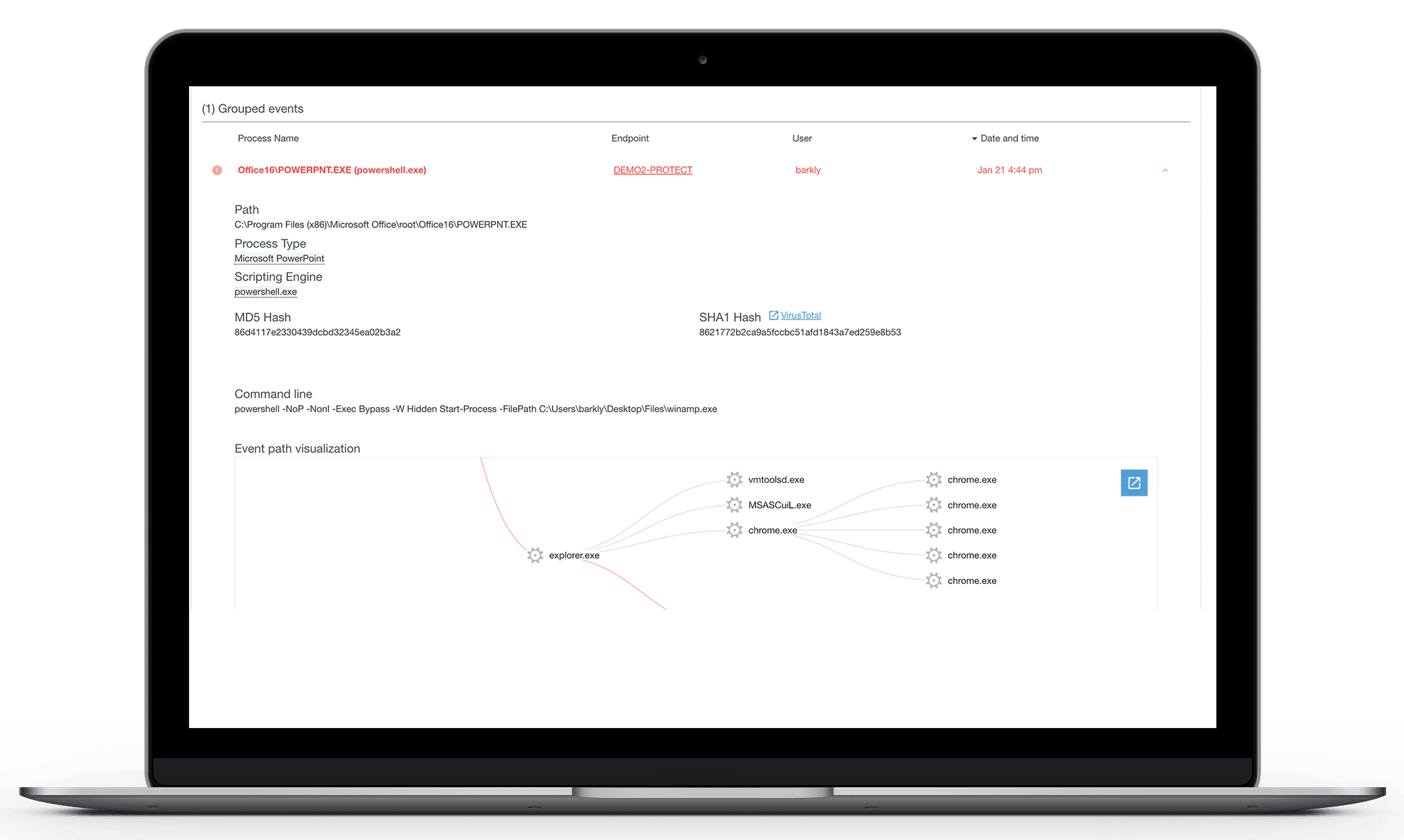 Managed Endpoint Security Solution
Alert Logic keeps you a step ahead of advanced security threats and maximizes efficiency for every organization.
Automatically gathers new malware and goodware samples
Trains protection models against new security threats continuously
Tailors protection models based on your organization's unique profile
Maximizes protection and minimizes false positives for your business
Securing Endpoints Using Machine Learning and Analytics
Alert Logic provides coverage for laptops and desktops as a first line of defense against attacks.
You get endpoint security and active blocking capabilities for the following exploitation techniques:
Alert Logic Solution Benefits
Alert Logic delivers a comprehensive solution that provides asset visibility, vulnerability assessment, threat detection and response, and web application security to provide the right level of coverage at the right cost. We enable broader detection and response with less effort and lower cost.
SECURITY PLATFORM
Asset discovery
Extended endpoint protection
Vulnerability scanning
Threat monitoring and visibility
Intrusion detections
Security analytics
Log collection and monitoring
Always-on WAF defense against web attacks
THREAT INTELLIGENCE
Threat Risk Index
Verified testing 2.1 million + web application attacks
Remediation guidance
Attack prevention capabilities
Extensive log search capabilities
User behavior anomaly detection
Event insights and analysis
Threat frequency, severity, and status intelligence
Comprehensive vulnerability library
EXPERT DEFENDERS
24/7 SOC with incident management, escalation, and response support
PCI scanning and ASV support
Service health monitoring
Incident response assistance
Threat hunting
Help with tuning strategies, customized policies, and best practices
Need to Schedule A Demo?
For the US call 844.816.1051 and for the UK call +44 (0) 203 011 5533