Maintaining effective cybersecurity is challenging. Organizations must continuously identify and patch vulnerabilities in their hardware and software while facing a virtually constant barrage of cyber threats. Visibility and context are crucial for IT teams to manage the staggering number of alerts from potential issues and suspicious or malicious activity.

Alert Logic Dashboards
The dashboard in the Alert Logic console provide our customers with that visibility and context. The dashboards provide a visual overview of the environment, but also give customers the ability to drill down for rapid access to critical details, and the information necessary to monitor the health of their Alert Logic deployment and maintain their security posture.
There are a variety of dashboards available to enable customers to view their environment and the overall security posture in detail. Each dashboard provides visual representation of the information generated within the Alert Logic Managed Detection and Response (MDR) platform, filtered through the triage and analysis of our experts in the Alert Logic Security Operations Center (SOC) so you only see the information that matters.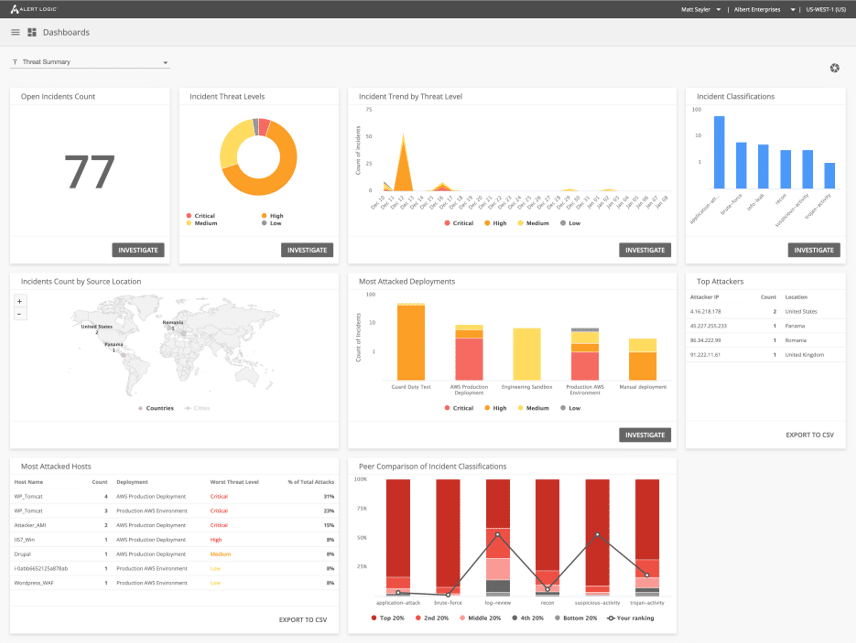 Each of the Alert Logic dashboards delivers an at-a-glance summary of the overall conditions. For example, the Threat Summary Dashboard allows you to target incident investigations, visualize threats across protected assets, and provides vital information on attack trends. Or, the Endpoint Protection Dashboard summarizes the current status of protected Windows and macOS endpoints, and valuable statistics on the most attacked users.
Being able to quickly survey the general security posture is useful in and of itself, but the real value of the Alert Logic dashboards lies in the ability to drill down to intricate detail on any event or activity.
Check out this video for an overview of the power and value of the Alert Logic dashboards:
Better Peace of Mind with Alert Logic MDR
Attacks are constantly evolving, and Alert Logic is always watching. We are dedicated to identifying and prioritizing what to do next. We are relentless in protecting your organization. Our knowledge and our expertise is your advantage.
Through using the Alert Logic purpose-built technology and team of security experts you are empowered to resolve whatever threats come along. These dashboards are an important element of the Alert Logic Managed Detection and Response (MDR) platform and the peace of mind we provide for customers. Giving customers actionable intelligence–presenting valuable information in an easy to consume way so you can continuously identify and address breaches or gaps before they cause real damage—is essential for effective cybersecurity.